Highlights
Cycle the coast and country lanes of Brittany's Granite Coast
Visit the iconic Pink Ploumanc'h lighthouse
Relax on the golden beaches of Perros Guirec
Enjoy harbourside lunches of fresh seafood and sweet crepes
Ride across the tropical floral Island of Brehat
Discover the beaches, creperies and coastal towns of Brittany's Granite Coast on this relaxed cycling tour.

From the palm trees and blue waters of Perros Guirec, ride to the sleepy bay of Saint Guirec. Here, explore coastal paths as towering rock formations give way to panoramic sea views, and the iconic 'Lighthouse of Ploumanac'h sculpted from the pink granite which makes this region so unique.

Moving on, cycle east across rural Brittany to the tranquil harbour town of Tréguier, where waterside restaurants serve fresh local oysters and traditional sweet Breton crepes. Riding onto Ploubazlanec, a two night stay here allows for a full day to explore the Island of Brehat. A renowned haven for Mediterranean wildflowers and traditional crafts, Brehat also boasts some of Brittany's best beaches. Perfect for a final afternoon of rest and relaxation!
Day 1 Arrive Lannion, Transfer to Perros Guirec
Your tour begins in Lannion with a private transfer to the coastal town of Perros Guirec. Lannion has excellent high speed TGV train connections through to Rennes (2hrs) or Paris (4hrs),
Perros is very easy to explore on foot. You may only make it as far as the perfectly crescent shaped beach or you may prefer to wander the picturesque coastline with fabulous views out to the Les Sept Isles.
Overnight: Perros Guirec
Day 2 Loop Cycle Perros Guirec
From Perros cycle west to the bay of Saint Guirec. Hop off the bikes for a short walk to visit the perfect pink granite lighthouse of Ploumanc'h dating back to 1860. Sheltered by towering rock formations, Saint Guirec is a picture postcard spot and is more than worthy of long lunch stop! Later in the day, ride the coastal roads and country lanes back to the clear blue waters and palm trees of Perros Guirec .
Cycle: 30 km
Overnight: Perros Guirec
Day 3 Cycle to Tréguier
This morning enjoy cycling along the coast before turning inland through the villages and back roads to the relaxed harbour of Tréguier . With plenty of waterside bars and cafes you may like to try fresh local oysters followed by a classic sweet Breton crepe, washed down with a local cider. The perfect post ride menu!
Cycle: 33 km
Overnight: Tréguier
Day 4 Cycle to Ploubazlanec
Crossing the River Jaudy, you'll see fishermen returning from their morning's work as you start to make your way to Ploubazlanec. The route heads through Paimpol where you can visit the 13th century Abbaye du Beauport complete with apple orchards, rose gardens and fig trees. From here, it is a short cycle to the village of Ploubazlanec where you will spend the next two nights.
Cycle: 30km
Overnight: Ploubazlanec
Day 5 Loop Ride on the Island of Brehat
Today, hope on a ferry (10 mins) and ride around the Island of Brehat, renowned for it's Mediterranean wildflowers. Consisting of several islets (joined by bridges at low tide)., the island is also home to a small community which uphold several traditional crafts including glassblowing and buckwheat farming. Later in the day, relax on one of the fabulous stretches of unspoilt beaches! Later in the day, return to Ploubazlanec at your leisure!
Cycle: 20-40km+
Overnight: Ploubazlanec
Day 6 Onward Travel
A taxi transfer to Paimpol train station is included on this day. From here you can connect through to Guingamp, Rennes and onto Paris (approx 3 hours).
Accommodation
Stay 3 nights in 3* hotels, and 2 nights in a 2* hotel. Below is an example of the accommodations we use on this trip. These accommodations are subject to availability and therefore alternatives of an equal standard may be offered.
Single Rooms & Solo Cyclists
If you require single rooms we would be happy to accommodate you although there is a single room supplement payable.
We also welcome solo cyclists on this tour, again a supplement is payable.
Meals
Breakfasts are included each day, Packed lunch items can be bought locally from supermarkets or the local boulangerie. In France simplicity is tasty. Fresh bread from the bakery and a local cheese make for an incredible delcious lunch! Dinners are not included and there is always a delicious restaurant serving locally source dished.
Villa Des Hydrangeas - Perros Guirec
A firm favourite in Perros-Guirec, the Villa Hydrangeas is run by the lovely Coralie and her partner. In a stunning location in between two beaches, the hotel has everything you need for a pleasant stay.
Hotel Aigue-Marine - Treguier
Wonderfully located beside the peaceful port and only a 5 minute walk to the charming historical centre of Treguier. Hotel Aigue Marine has an outdoor pool- perfect for relaxing after a day on the trail
Hotel les Agapanthes
This charming, 18th century property has been lovingly restored to provide a peaceful stay and on arrival the peaceful gardens are a great spot to enjoy a drink from the hotel bar.
Availability
This trip is available to start on any day from May to October
and is subject to availability. Peak months in Brittany are mid-June, July and August so we would suggest contacting us as soon as your
plans are finalised.
Grade, Terrain & Navigation
This trip is graded easy to moderate with daily distances of around 30km.
This cycling route follows a combination of coastal roads, quiet country roads, stretches of rolling terrain and busier routes when approaching and departing towns and cities. Please always be mindful of other roads users at all times, especially when cycling on routes shared with traffic. The tried and tested detailed routes notes and maps are easy to follow during your self-guided adventure. We also recommend using our Macs Adventure App. This easy to use app
will navigate you through each of your daily rides. Full details of the
app will be provided with your information pack.
Should you require assistance, local 24/7 telephone support will also be available throughout your trip.
Bike Rental
Scott hybrid bikes are available for hire. All bikes are equipped with a pannier, helmet and spare inner tube along with a pump.
Many people also choose to hire an EBike. The added battery power
provides assistance when required. For more information on how EBikes
work click here.
If you'd like to hire a bike, please let us know your height and
frame size you currently ride. Alternatively we're happy to answer any
questions you have about the hire bike.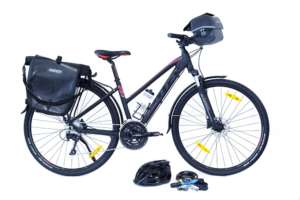 If you would prefer to bring your own bicycle please ensure it is
thoroughly serviced and is an appropriate hybrid or touring bike for
this trip.
Baggage Transfer
Your bags will be transferred from your accommodation as per your itinerary and moved onto your next overnight accommodation. We ask you to limit your luggage to one bag of up to 20kg per person.
Travel Insurance
It is a requirement of booking this tour with Macs Adventure that you have suitable travel insurance which covers you for the activity and emergency evacuation and hospital care
General Information
The distances and ascents/descents are approximations of the recommended routes. Please be prepared by packing all necessary items, for example, comfortable cycling gear and sunscreen. Your information pack has detailed advice and a kit list on what to take.This includes good foowear, padded shorts and lots of other useful items.
Getting to Lannion / From Ploubazlanec
Getting to Lannion
There are many ways to travel to Northern Brittany. For general travel planning, we recommend the travel planning website, www.rome2rio.com
Air: Lannion does not have an airport so we would suggest arriving into one of the 3 Parisian Airports. From Paris, connect by train to Lannion via Rennes, the gateway city into northern Brittany. Train times and details can be found at www.sncf.com.
Train connections to Lannion vary depending on arrival airport. From Charles de Gaulle Airport to Rennes there is a direct TGV service (2-3 hours). Alternatively, from Paris Gare Montparnasse Rennes is 1hr 25mins.
Brest Airport has a limited number of services across Europe. From central Brest train station, Lannion is a 1hr 30min.
Train (Eurostar): From London St-Pancras International the Eurostar change at Paris Gare du Nord, and head to Gare Montparnasse. From here Lannion is around (3hrs), changing at Rennes.
The whole trip can be booked at http://www.eurostar.com
Please note that we can also organise overnights in Rennes if required.
Drive: From Folkestone, take the Eurotunnel shuttle to Calais. From Calais, it is about a 6-hour drive to Lannion/Perros Guirec. Booking and more info can be found at www.eurotunnel.com
Drive and Ferry: There are many ferry services to France from the UK. Popular routes include; Portsmouth to St Malo (approx 6-8 hours) or Plymouth to Roscoff (10 hours). On arrival driving St Malo to Lannion is approximately 2 hours drive whereas Roscoff to Lannion is only an hour.
Getting from Ploubalaznec
By Train: A transfer from Ploubazlanec to Paimpol train station is included on Day 6.
From Paimpol there are daily train services which connect through to Brest, Rennes and onwards to Paris. Please check the www.sncf.com website for further details on train times, prices and ticket reservation.
By Air: Please refer to the airport listed in the previous section 'Getting to Lannion' as your best choice of airport.
Drive: If you need to return to Lannion or Perros Guirec to collect a car, please contact us for details and prices of private transfer.
Included
3 nights 3* hotels & 2 nights 2* hotel
5 Breakfasts
Baggage transfers
Transfers as per the itinerary
Detailed information pack, route notes and maps
GPX tracks and access to our GPS Macs Adventure smartphone app
24/7 telephone support from our UK office
Excluded
Travel insurance
Travel to Lannion / From Paimpol
Lunches & Dinners
Drinks and snacks
Personal equipment
Extras
Single room supplement(s) if applicable
Solo cyclist supplement if applicable
Additional nights before, during or after the tour
How far in advance do I need to book?
We suggest you book as soon as your plans are finalised as Brittany is extremely popular during the Summer, especially late June, July and August.
How fit do I need to be?
This trip is graded easy to moderate with daily distances of around 30km. You will encounter some stretches of shallow hills, but these usually don't last for too long. It's a good idea to get out on your bike for a couple of consecutive days in the lead up to your holiday so you get used to riding back to back days. Each day there are plenty opportunities to stop and sample local foods, enjoy the beaches and spectacular pink granite rock formations that make this region of Brittany so distinct.
How do the baggage transfers work?
Your bags will be transferred from your accommodation as per your itinerary and moved onto your next overnight accommodation. We ask you to limit your luggage to one bag of up to 20kg per person.
What equipment do I need?
Your detailed information pack will be sent to you after you book. This has a detailed equipment list which includes standard cycling gear, seasonal appropriate clothing and a bike helmet.
When is the best time of year?
This tour is available from mid-May to mid-October. May to June has flowers in full bloom and evenings might be fresh. From July through to August the Granite Coast really comes to life with numerous small festivals and celebrations and within the harbour towns, evenings are perfect for tucking into the catch of the day. Into September the crowds thin but very often there is a later surge of summer sun to prolong beach life!
What happens if I can't cycle a stage?
You can use public transport or a local taxi to continue to your next overnight stop. However, extra arrangements might be required to transfer your bike. Please contact the office for any assistance.