Highlights
Easy going cycling from Rennes to the UNESCO listed Mont St Michel
Pedal and picnic along the Canal d'Ill et Rance
Discover the medieval town of Dinan
Enjoy a beachfront lunch of fresh oysters at Cancale
Explore the harbours and relax on the beaches of Dinard and St Malo
Discover the cities, villages and coastal towns of Brittany on this easy going cycling holiday, finishing with a day to explore the magnificent UNESCO listed island of Mont St Michel.

Cycle from the vibrant centre of Rennes along the easy going Canal d'Ille-et-Rance to the colourful half-timbered buildings of medieval Dinan. Ride northwards along the Rance estuary, where you can take a day out of the saddle to explore the chic coastal towns and beaches of Dinard and St Malo.

Rolling eastwards, pedal to the charming seaside town of Cancale and enjoy a lunch of freshly shucked oysters before arriving at the gateway town of St Mont Michel, Pontsoron for two nights. From Pontsoron, it's just a short ride to the iconic UNESCO landmark which is worthy of a full days exploration including sampling many of the delicious variety of crepes on offer.
Day 1 Arrive Rennes
The half-timbered houses of Rennes can be reached from central Paris in 1hr 30mins by train or the nearby airport of Dinard is around 1hr 30mins.
Depending on your arrival time, wander the lively streets of Brittany's north west capital where you can visit the Musee des Beaux-Arts and familiarise yourself with the delicious sweet and savoury crepes of Brittany.
Overnight: Rennes
Day 2 Cycle to Hédé
Leaving Rennes, cycle north east and join the Canal d'Ill et Rance which weaves its way to the village of Hédé. Being a day of peaceful waterside cycling, don't forget to pick up a picnic at local boulangerie for later in the day. Just before reaching Hédé, marvel at the 11 locks that stretch over 2km. Here you can also visit a lock keeper's cottage for a short history of this engineering feat.
Cycle: 40km
Dinner & Overnight: Hédé
Day 3 Cycle to Dinan
The route today continues north along the tree lined canal towards the medieval settlement of Dinan. Before arriving, explore the characterful town of Lehon, designated as one of the most beautiful villages in Brittany. Only a short ride into Dinan, it is worth taking a stroll around the cobbled streets and half timbered buildings, sampling the local Bréton cider.
Cycle: 42km
Overnight: Dinan
Day 4 Cycle to St Malo
Just north of Dinan your journey along the Canal d'Ill et Rance ends as you join a cycleway along the Rance estuary towards the effortlessly sophisticated coastal town of Dinard. Here you may want to relax over a long lunch before taking the short ferry hop (15mins), across the bay to the walled town of St Malo where you will spend the next two nights.
Cycle: 40km
Overnight: St Malo
Day 5 Explore St Malo
As today is a day out of the saddle, enjoy wandering the 12th century streets of St Malo or kick back and relax one of the pristine beaches. If you're feeling a little more adventurous, you may like to hop back over to Dinard or even take the ferry to the nearby Channel Island of Jersey for the day (1 hour journey time).
Cycle: None
Overnight: St Malo
Day 7 Cycle to Pontorson
With rested legs, a rolling ride heads east along the coast towards the seaside town of Cancale. There are a number of mouth wateringly good options for lunch here including freshly shucked oysters at one of the many seafood stalls. From here the landscape flattens out and an easy going cyclepath leads to Pontorson, the gateway town to Mont St Michel.
Cycle: 58km
Overnight: Pontorson
Day 7 Visit Mont St Michel
Just a short ride away is the stand out, iconic island commune of Mont St Michel rising out of the sea. The Abbey (completed in 1523) and the steep, narrow streets of Mont St Michel is a real journey back to medieval times. Surrounded by Europe's highest tidal variation often thwarted enemy attacks and has contributed to the exquisite preservation of this UNESCO listed site
Cycle: 18km
Overnight: Pontorson
Day 8 Onward Travel
Depending on your departure time today, you may like to take a stroll around Pontorson. From Pontorson, there are regular train services connecting with Rennes and Paris.
Accommodation
On this trip you will spend 4 nights in 3* hotels, 1 night 2* hotel & 2 nights in a guesthouse . We regularly use the following properties but will accommodate in a hotel or B&B of equal standard should any of the following hotels be unavailable. Each stay at the listed accommodation is based on a standard room.
Single Rooms
If you require single rooms within your party or are travelling as a solo cyclist single rooms are available subject to a supplementary payment.
Meals
Breakfast is included each day at your hotel and usually consists of fresh pastries, breads, fruits, yogurts, cheeses, meats and granola. Dinner is also included on the evening of day 2 in Hédés. If you have special dietary requirements do let us know at the time of booking.
Lunches and 6 dinners are not included. One of our favourite experiences is to pick up local cheeses and boulangerie breads for a picnic. As you will be staying the heart of each village or town, there are extensive cafes and restaurants to choose from in the evening.
Availability
This trip is available to start on any day from May to October
and is subject to availability. Peak months in Brittany are
June, July and August so we would suggest contacting us as soon as your
plans are finalised.
Navigation & Terrain
This cycling route follows a combination of cycle paths, quiet country roads, stretches of rolling coastal terrain and busier urban roads when approaching and departing towns and cities. Please always be mindful of other roads users at all times. Our tried and tested detailed routes notes and maps are easy to follow during your self-guided adventure. We also recommend using our Macs Adventure App. This easy to use app will navigate you through each of your daily rides. Full details of the app will be provided in your information pack.
Should you require assistance, local 24/7 telephone support will also be available throughout your trip.
Bike Rental


Scott hybrid bikes are available for hire. All bikes are equipped with a pannier, and spare inner tube along with a pump.
Many people also choose to hire an EBike. The added battery power provides assistance when required. For more information on how EBikes work click here.
If you'd like to hire a bike, please let us know your height and frame size you currently ride. Alternatively we're happy to answer any questions you have about the hire bike.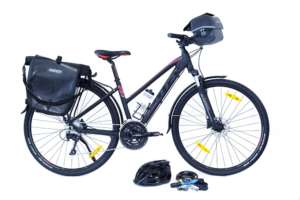 If you would prefer to bring your own bicycle please ensure it is thoroughly serviced and is an appropriate hybrid or touring bike for this trip.
Travel Insurance
It is a requirement of booking this tour
with Macs Bike that you have suitable travel insurance which covers you
for the activity, emergency evacuation and hospital care.
General Information
The distances and ascents/descents are
approximations of the recommended routes. Please be prepared by packing
all necessary items, for example, proper rain gear (jacket and
trousers), sun hat and sunscreen. Your information pack has a detailed
equipment list which includes standard cycling gear such as good shoes,
warm and waterproof clothes for the cooler months and lightweight
clothing for summer, and a day pack.
Getting to Rennes / From Pontorson
Getting to Rennes
For general travel planning, we recommend the helpful site www.rome2rio.com
Fly: Paris Charles de Gaulle, Orly or Beauvais airports. Train connections vary depending on which Paris airport you arrive into. There is a direct TGV train from Charles de Gaulle to Rennes which takes about 3 hours. Alternatively, if you make your way to Paris Gare Montparnasse in the city centre, there is a new TGV line that leaves from here and takes only 1 hour 25 mins to reach Rennes.
Train: Eurostar from London St-Pancras International to Paris (Gard du Nord). Change here and travel to Paris Gare Montparnasse in the city centre. The total journey time is approx. 5 hours and the whole trip can be booked at www.eurostar.com.
Drive: From Folkestone, take the Eurotunnel shuttle to Calais, and continue driving from here. From Calais, it is about a 5 hour drive to Rennes. Booking and more info can be found at www.eurotunnel.com
Drive and Ferry: Drive to Dover and take the ferry to Calais (approx. 1 hour 15 mins crossing). Then drive onto Rennes (approx. 5 hours drive). Alternatively you can get a ferry from Portsmouth to St Malo (11 hours) followed by an hour drive to Rennes, or Poole to Cherbourg (5 hours), followed by a 2 hour drive. Ferry info and booking can be found at directferries.
Getting from Pontorson
From Pontorson train station, you can return to Paris and connect through to any of the international Parisian airports or international train services. Journey time to Paris is approximately (4 hours).
If you need to return to Rennes to collect a car, train journey times to Rennes are approximately an hour.
Included
6 nights in 3* hotels & 1 night 2* hotel
7 Breakfasts & 1 Dinner
Detailed route notes with maps
Baggage Transfer
Macs Adventure Navigation App
24/7 local partner and UK telephone support
Excluded
Bike Hire
Travel to Rennes / from Pontsoron
Lunches and 6 Dinners
Drinks and snacks
Entrance fees & ferry on day 4 (Dinard to St Malo)
Personal equipment and expenditure
Travel insurance
Extras
Single Room(s)
Solo Cyclist Supplement
EBike/Bike Hire
How fit do I need to be?
This trip is graded easy to moderate with daily distances of 35 km—60 km. You will encounter some stretches of shallow hills along the coast, but these usually don't last for too long. It's a good idea to get out on your bike for a couple of consecutive days in the lead up to your holiday so you get used to riding back to back days. However, it's not all cycling. Each day there are plenty opportunities to stop and sample the fresh seafood and Breton crepes.
How far in advance do I need to book?
We suggest you book as soon as your plans are finalised as this trip is extremely popular especially in the summer months. You can start this holiday on any day of the week.
When is the best time of year?
May to June offer warm days and flora is full bloom. Into July and August Brittany is thriving with life. Days are long, warm and perfect for enjoying a late dip at the beach or a long beachfront dinner. Into September, evenings might be a little fresher and the crowds have thinned somewhat for you to enjoy the contrast of Brittany's countryside and coast.
How do the baggage transfers work?
Baggage transfer as per your itinerary is included in the price of your trip. We ask you to keep your baggage to a maximum of 1 bag per person (maximum weight 20kg).
What happens if I can't cycle a stage?
You can use public transport or local taxis to continue to your next overnight stop. These costs are payable locally. Details of alternative transport will be listed in your information pack. Your accommodation hosts will also be able to help you with any local transport questions.